The first Visual Essay Jam was held on itch.io over the weekend of February 10th-12th. In this short time, and only two weeks after I had come up with the idea in the first place, 25 visual essays were submitted, covering a wide variety of subjects and approaches to the form. I am so grateful to the people who took my idea and ran with it, and each of your essays made me think about games from a new angle. Here's my roundup:
---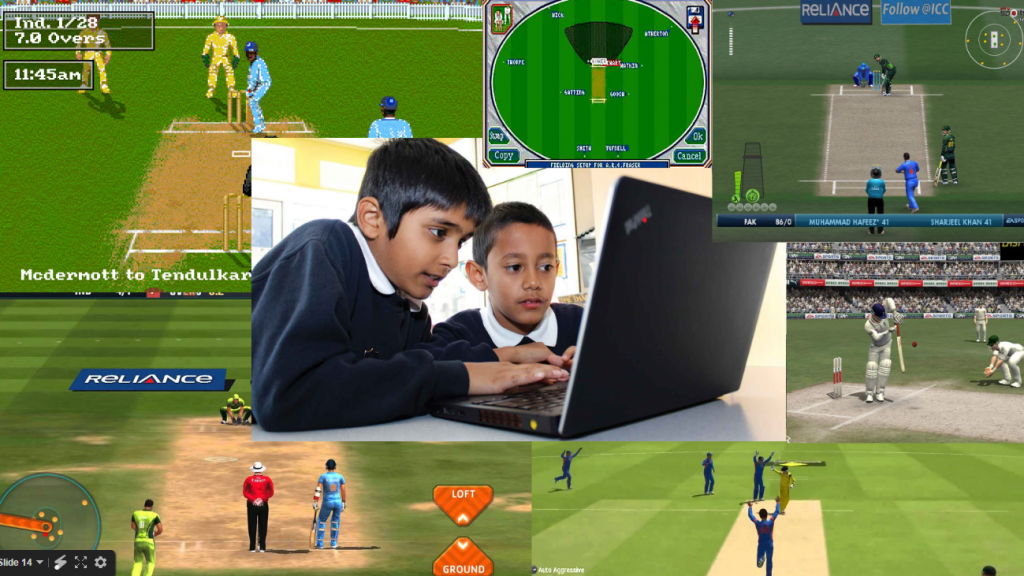 Living in Game Worlds
Many of the most compelling and surprising insights came from essays exploring the intersection of games and life, inhabiting a gameworld through identification or activity, and the opposite, effects games have on the real world.
Gay Experience is a moving and carefully observed selection of how gay and bisexual men are (and aren't) allowed to exist in in videogame worlds, from fantasies to worlds meant to represent our own. Trauma and Turmoil examines how a broader media vocabulary of representing strife and disaster has translated to games, and You are Not Far Away looks at the psychological underpinnings of videogame representations of dreams. Why I Stopped Going Outside to Play presents a personal account of how sports games usurped the street cricket matches of Prashast Thapan's childhood. Finally, Spaces and Crowds transitions us from the sensations brought on by wide and empty plains of single player games all the way to the indecipherably chaotic marketplaces of Runescape.
---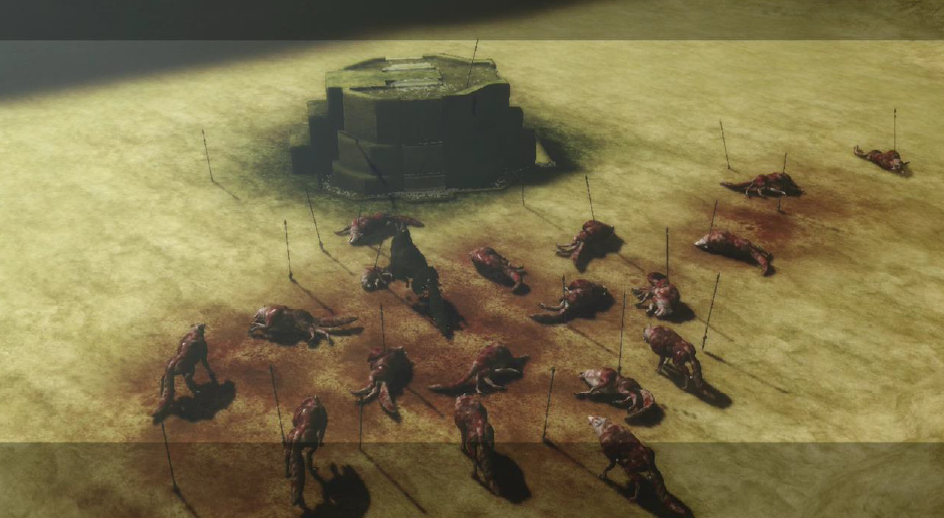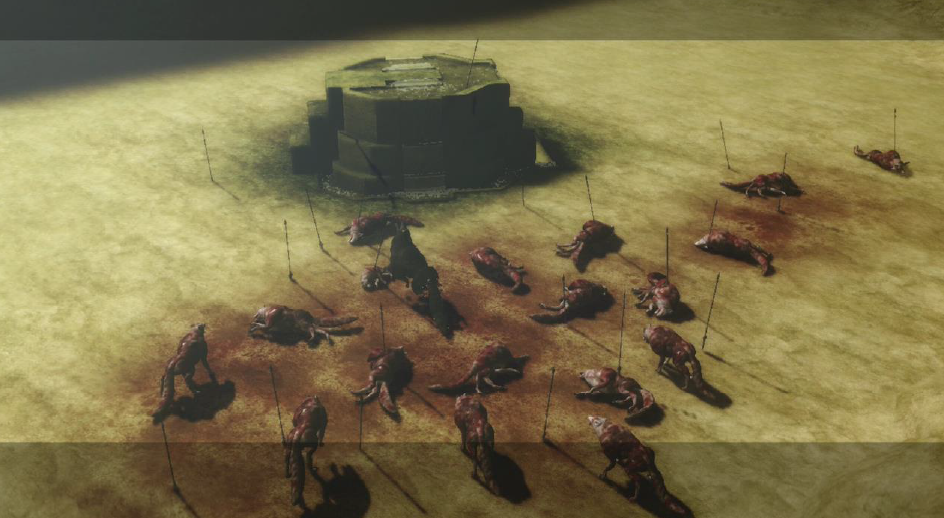 Shape and Structure
Several participants used the visual essay form to explore ways to represent the ways structure and repeated visual motifs can be used to define the game space.
Pieces From The Whole and Spaces and Shapes in Ocarina of Time both trace architectural motifs and their psychological effects through popular games. Vanishing Point similarly serves as a meditation on the various ways videogames represent depth on the 2D plane of the screen, and the implications of these representational modes.  Twine and Texture explores the tactile differences between two engines for creating Interactive Fiction games, turning the subject of the investigation to game making tools rather than games, while Press Start further investigates the global networks of labor and material required to simply press start for a single game. Finally, Dylan Schneider's Slow Action focuses on submerged and enveloped mysteries.
---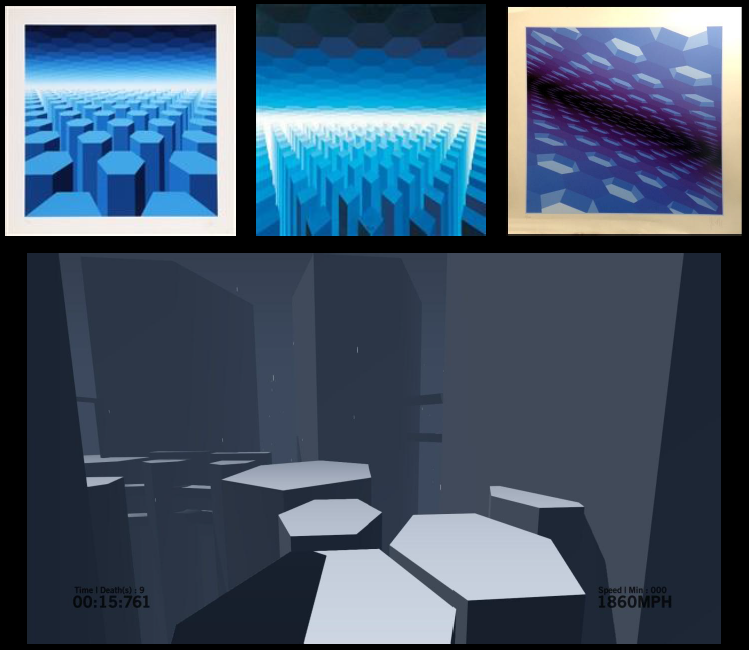 Close Readings
Another approach was to focus in on a single game, isolating or creating connections between its most interesting design elements.
Mark Wonnacott explores types and visual sources of weapon and monster designs from Final Fantasy VII in WEAPONS and monsters. Before Violence is a montage of the gritty shooting violence of Kane & Lynch 2 with its comparatively serene menu screens.  Nier and Existentialism exposes well-spotted connections between Nier and other Japanese media that share visual and narrative existential themes, and Infinite Jam uncovers the historical sources of Bioshock Infinite's patriotic and religious imagery. Beegentle digs into The Vanishing of Ethan Carter to find its visual echoes in art and culture. Finally, Shadsy's essay on The Labyrinth of Time draws comparisons between transformations in the game environment and the shifting compositions of MC Escher.
---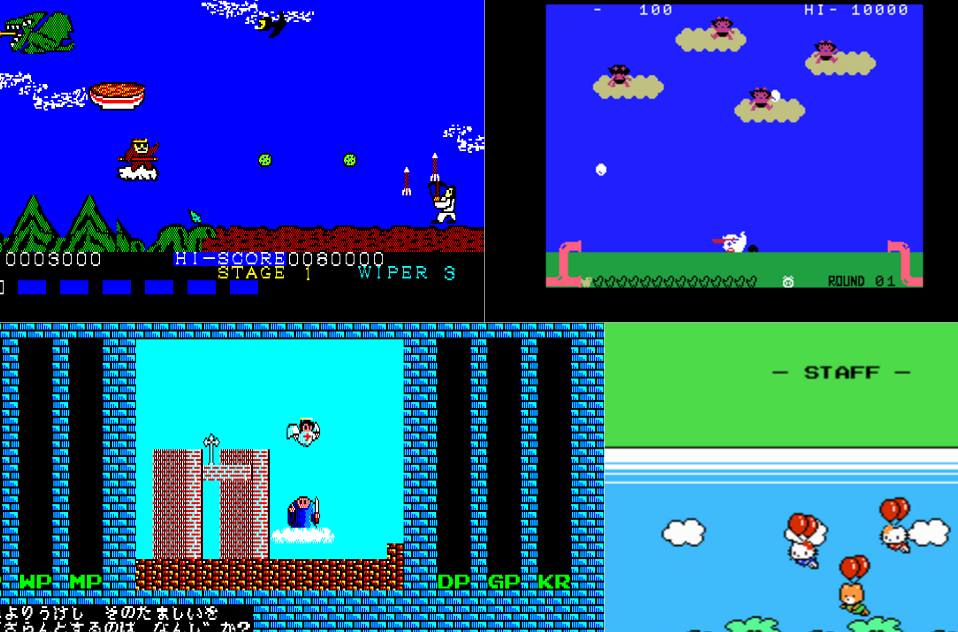 Typologies
My own essay, The Feeling of a Hotel, is meant as a sort of typology of experience of the different kind of sensations you can encounter staying in a hotel, both in real life and in videogames. Other typology-based essays include Residents, which examines the trope of the haunted house and what haunts it through movies, photography and games, and Photographs as Visual Cues in Videogames, which presents a range of instances where looking at photos reveals important information to the player about the game's environment and narrative. Jimaroonie's 30 Years 522 Days Later… presents an infinite landscape of Super Mario levels to browse, made from the same base components that have always been a part of the side scroller genre. Sky Friends collects examples of the presence and absence of open sky in games. Finally, C'est une Grande Habileté que de Savoir Cacher son Habilité focuses exclusively on titles made in RPGMaker, presenting the vast variety of artistic styles and approaches creators have used in conjunction with a single game making tool.
---
There was an enormous amount of variety, creativity, and ambition in the entries to the Visual Essay Jam, and to me the weekend felt extremely productive. Not only are these essays excellent on their own but they also provoke deeper investigations into their subject matter, or raise new issues to investigate in games writing in general.
Thank you to Zoya Street and Critical Distance for boosting the jam, as well as all of the participants for their work. My goal in creating a jam of this type was to capture the social and collaborative opportunities offered to developers by game jams to writers, and also to follow in the footsteps of Llaura Dreamfeel's Flatgame Annual, where the jam is based around a set form to experiment with rather than a theme to answer to.  
If you are inspired to create your own visual essays, or even organize a visual essay jam of your own, I would love to hear about the results. Get in touch through twitter – @netgal_emi