Think back over the past year – what were the most memorable moments in games criticism? Who has been doing the best work? Which pieces will you keep referring back to for years to come? We're opening submissions for the Year in Videogame Blogging roundup.
Every year since 2010, I have put time aside to look back over the year and compile one final roundup: the mega feature, This Year In Video Game Blogging.
This is not just a "best of list" list. It is intended as an outline of what the video game critical sphere looked like in 2016, as much a historical record as it is a retrospective. This isn't something I aim to do alone: it is built out of conversations with the whole Critical Distance team, and as with all our roundups, we invite the community to contribute. To make sure that a piece is considered for the end-year roundup, send in links using the submission form, emails, or Twitter.
Submit here
Web formEmailTwitter
Send us as many emails as you like! They should look something like this: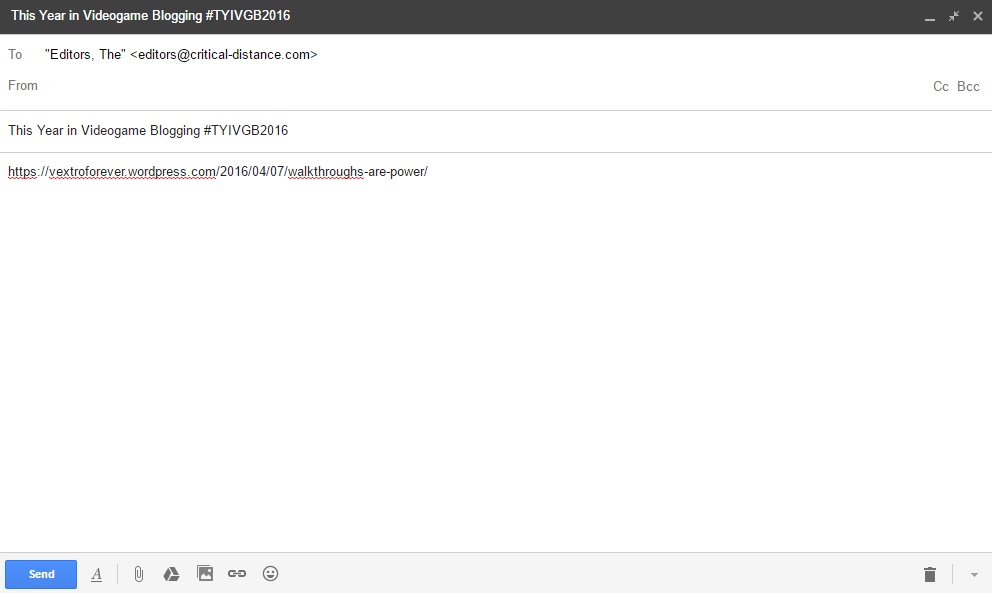 Address: See our contact page
Subject line: "This Year in Videogame Blogging #TYIVGB2016"
Content: Just the urls. Please use a new line for every new url. No need to send commentary, explanations, or background information.
Format: Plain text. No hypertext please, it makes formatting more difficult.
Submit in a Tweet
Send us a tweet with the term TYIVGB2016 or the hashtag #TYIVGB2016. Here's an example:
https://twitter.com/zoyander/status/805841339694780416
The deadline for TYIVGB reader submissions is 11:59PM, December 23rd Eastern Standard Time.
Guidelines for submissions
What will you remember for years to come?
Send us something that would stand the test of time and be remembered and cited long after its was published. Examples from previous years:
Which games were talked about the most?
For example, last year that might have included Metal Gear Solid V, Bloodborne, The Beginner's Guide, etc. We're looking for example pieces that highlight the discussion around those games, and exemplify the key issues raised by that discussion.
Which critics did notable work?
Who has been doing great things in games criticism this year? Send us pieces that represent their best work.
Who has summarized a key issue?
We are keen to feature any pieces  that highlight a conversation on gaming culture or the industry. We would prefer a compilation piece for complicated subjects, should they exist, but really any piece that captures the scope and complexity of the issue will be fine.
Did anything else stand out to you?
Please feel free to send in any pieces of games criticism that were simply exceptional.
---
Oh, and yes, you can nominate your own work. We hope you will take the time to send something in. Fuck 2016 and have a happy December.